Hello, and welcome to the Pixel Motives blog! We are excited to share our much-anticipated rebrand and website redesign. After months of hard work and dedication, we proudly unveil a new website that embodies our mission, values, and commitment to delivering exceptional web design and development services. Join us on this inspiring journey as we reveal the transformation that has shaped our business and explore how it will enhance your experience with Pixel Motives.
Introducing the New Pixel Motives Website
We are thrilled to introduce you to our newly redesigned website – showcasing our passion for web design and development. Among the exciting updates, you'll notice our refreshed logo and branding. We've simplified our navigation, ensuring an intuitive browsing experience. Additionally, we've incorporated creative design elements, making it quick and easy to access our portfolio of work, contact details, and other essential content.
Reasons Behind the Rebrand
Change is vital for growth, and we recognized the need for a fresh new look that truly reflects our identity and the services we provide. While our previous website served us well, we realized it required more clarity and vitality to represent our brand accurately. The rebranding process allows us to establish a strong connection with our audience, communicate our values more effectively, and focus on delivering the quality services we strive for.
Showcasing the New Logo and Color Palette
Our Redesigned Logo Is a Symbol That Embodies Our Passion and Innovation

At the core of our rebranding lies a redesigned logo. The logo's simplicity and elegance embody our commitment to excellence. It features a clean and modern font paired with coding brackets with a central dot representing the perfect pixel. This design serves as a testament to our dedication to precision and artistry.
Our Vibrant New Color Palette Visually Captures Our Creativity and Energy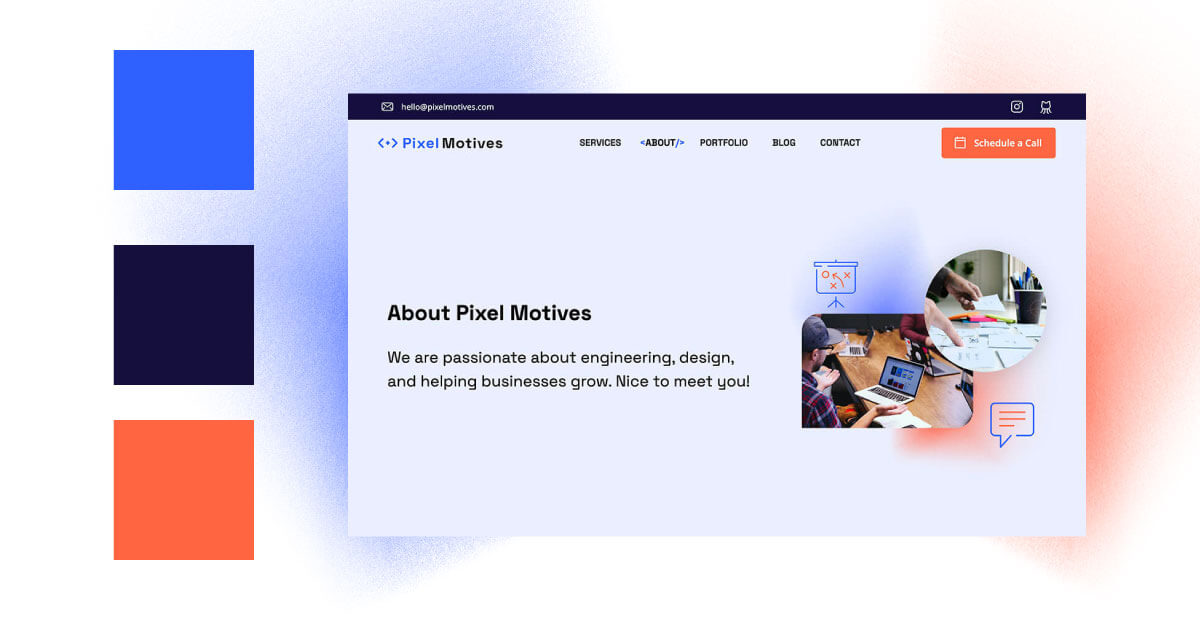 Our website is brought to life with a fresh color palette. An energetic blue anchors the design, while a lively orange adds a touch of vibrancy. These hues create a welcoming and stimulating atmosphere that captivates our visitors. Moreover, they emphasize our boldness and expertise, serving as a source of inspiration for creativity.
The Website Redesign Process From Start to Finish
Behind every great website is a well-thought-out design process. We wanted our website to engage users from the first glance, so we needed to consider every detail. The development process was an exciting journey of learning and discovery. Let's look at the steps we took to bring our vision to life.
Step One: Establishing the Foundation of Our Redesign With Content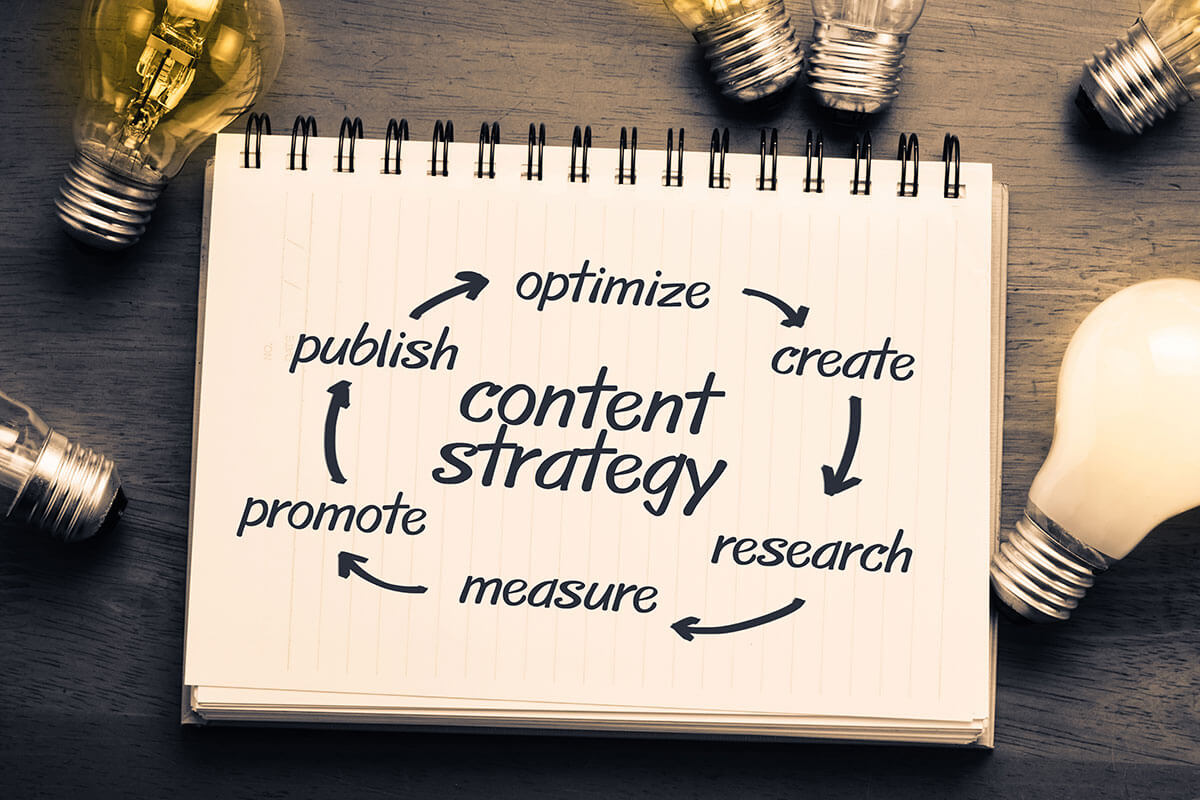 We understand the importance of crafting engaging, relevant, and relatable content. So, we made it a priority to understand our target audience's unique needs, preferences, and challenges. We developed content strategies that tell our story and how we understand our clients' goals and obstacles. Our ultimate goal was to ensure that every word we wrote resonated with our audience, creating a solid connection and trust.
Step Two: Crafting the Ideal Layout With Wireframing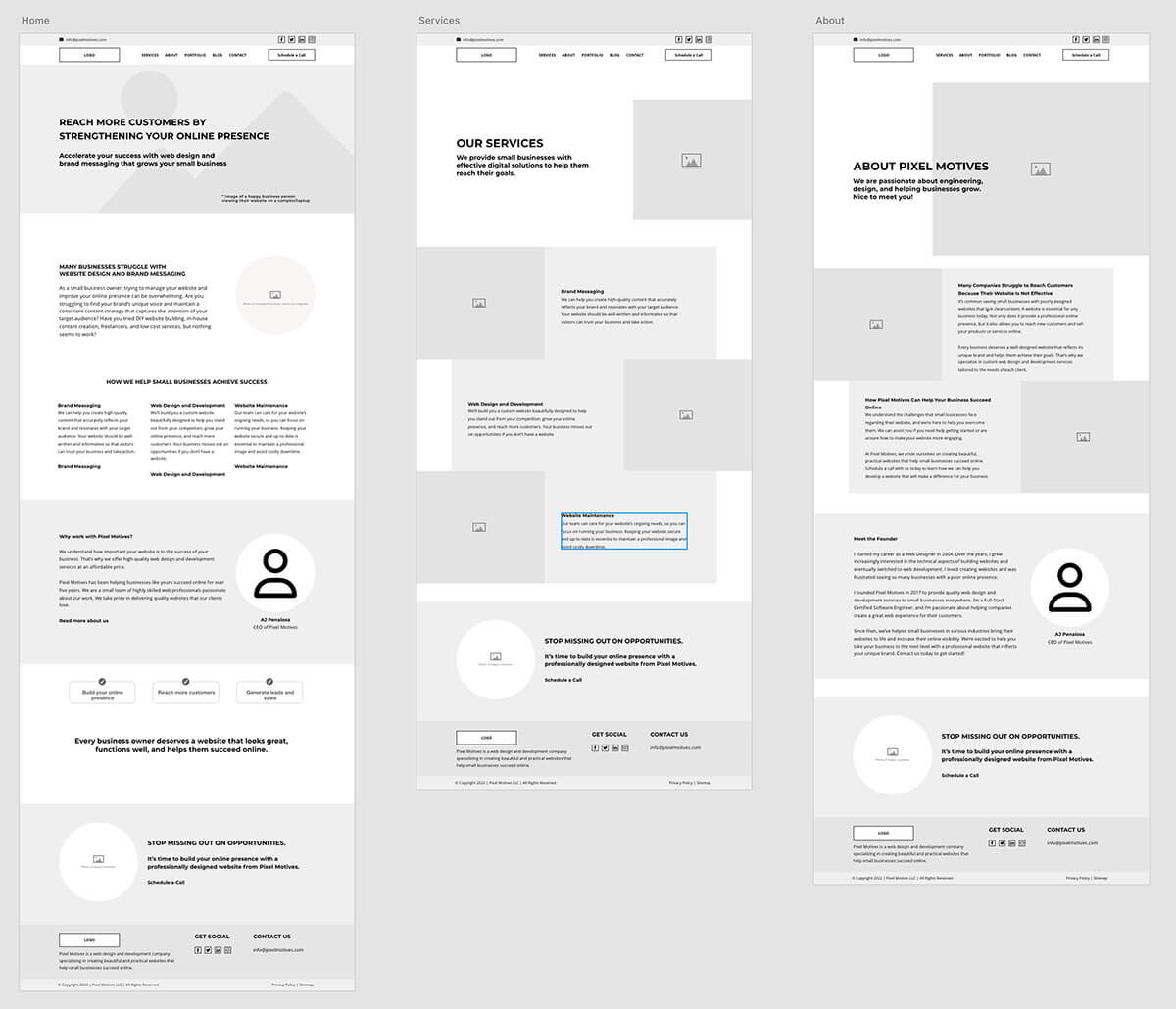 With a clear understanding of our content, we moved to the next stage: wireframing. We began laying out and structuring the website using Adobe XD, ensuring each piece of content found its perfect spot. This step was crucial for creating an effective and user-friendly website as it gave us an overview of the page structure without focusing too much on the visuals.
Step Three: Creating Our Brand Identity With Visual Aesthetics
It was time to create our visual identity! We created a vibrant visual identity for Pixel Motives, carefully selecting colors that reflect our mission and energy. With a captivating logo capturing our essence of precision, creativity, and innovation, we had the perfect foundation to bring our website to life. Combining a modern color palette and comprehensive design guidelines, we developed a complete visual identity that captures the spirit of Pixel Motives.
Step Four: Weaving Everything Together With Design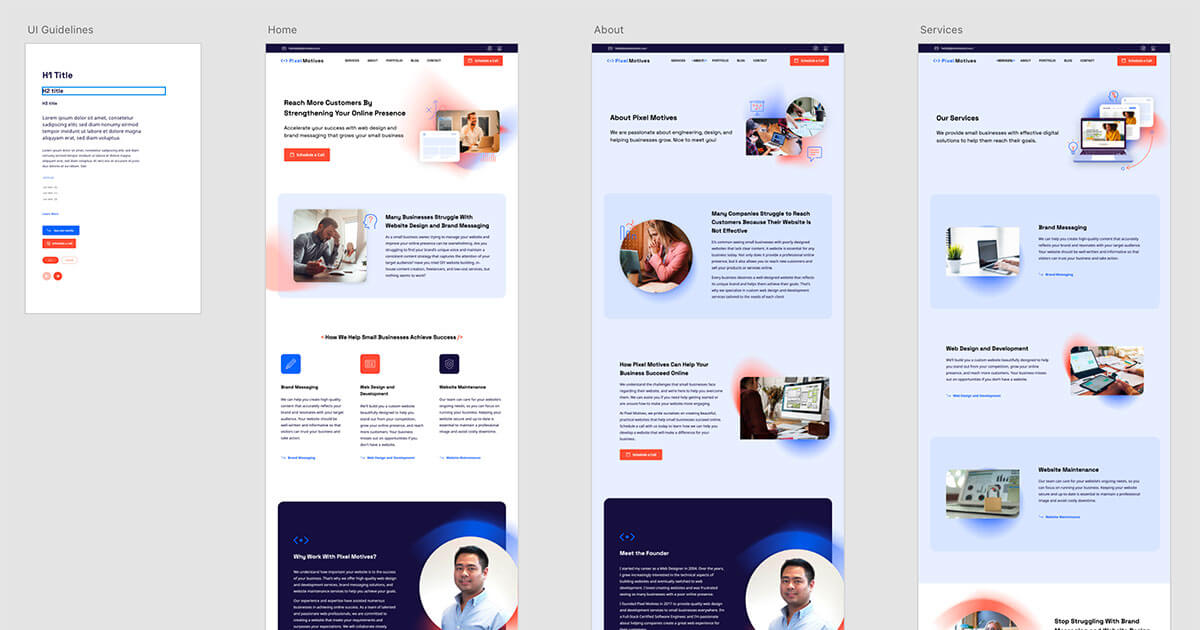 After laying out the content and understanding the website's structure through wireframes, it was time to infuse it all with design. We took our brand's colors, fonts, and logo and started incorporating them into the wireframes. Integrating these elements breathed life into our vision, allowing us to see our website take form.
Step Five: Bringing It All to Life With Our Pixel Motives Theme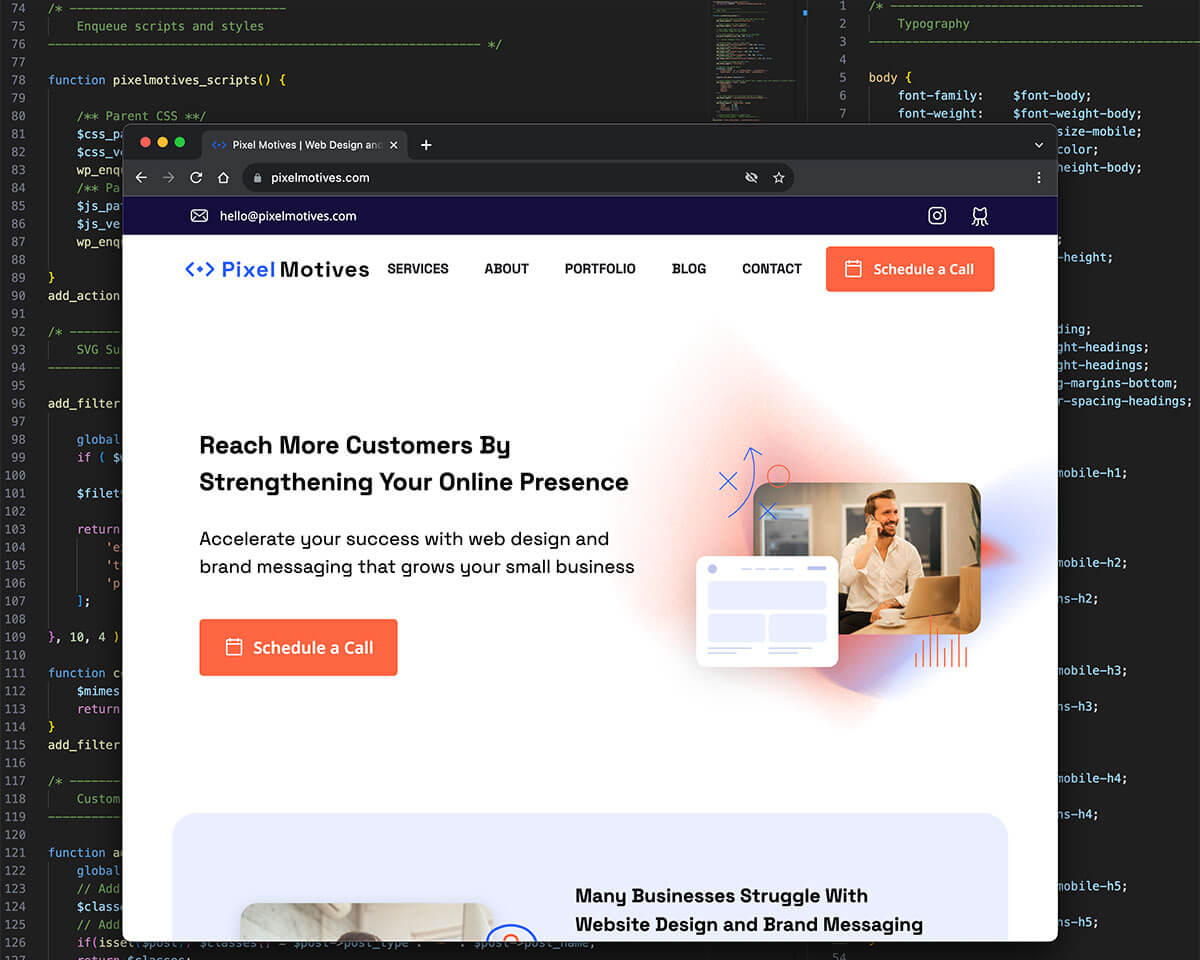 With our exclusive Pixel Motives theme, we started blending aesthetics, functionality, and user experience into the very fabric of our website. As lines of code turned into pixels, the Pixel Motives website took shape, layer by layer. This transformation showcased the shift from concept to interactive reality, a testament to our commitment to outstanding web design and development.
What's New in the Look and Feel of Pixel Motives
Gone are the days of a sparse website that left visitors wondering about our purpose. With Pixel Motives' new look and feel, we have embraced a more engaging, visually appealing, and user-friendly design. The vibrant color palette and cleaner layout invite exploration, while the improved visual navigation ensures a seamless browsing experience for our users.
What's Next for Pixel Motives
As we celebrate this momentous occasion, we remain dedicated to our community, constantly striving to enhance and broaden our services. In the upcoming months, we will introduce valuable resources through blog posts, sharing tips, tricks, and industry insights that empower and inspire our users. We are excited to make Pixel Motives your go-to source for web design and development solutions, providing top-notch assistance to help us all reach our full potential.
Wrapping Up
The Pixel Motives rebrand and website redesign marks a significant milestone for us. With a fresh new look, an inviting atmosphere, and a focus on enhancing user experience, we are more determined than ever to excel as a web design and development business. We are grateful for your continued support, and we can't wait to see what unique websites and digital solutions will be brought to life within our rejuvenated digital realm.
Thank you for joining us on this journey, and stay tuned for exciting updates!